The ZIP package contains the game with 1500×640 resolution that scales proportionally to fit current screen device.
The game is fully compatible with all most common mobile device browsers.
Sounds are DISABLED ON MOBILE DEVICES to avoid compatibility issues but can be easily enabled (read Enable Sound section in readme file). Anyway we can't grant full compatibility on all mobile devices if this feature is enabled.
WARNING:
Sounds can't be enabled for Windows Phone as this kind of device have unsolvable issues with <audio> and <video> tag.

More info in the help file

If you want to make an app out of this game, we suggest you to reskin or at least rebrand it

We can't be held responsible and offer support for eventual issues met during the use of the game in third party software (i.e. PhoneGap, Cordova, Iudei).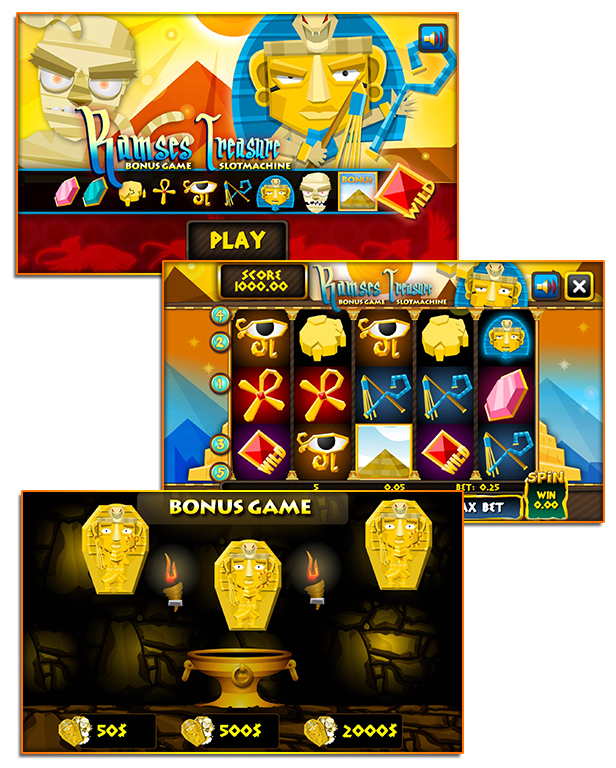 Easy to Install
With CTL Arcade you can:
Monetize with your games adding Ads Banners
Promote your website with Social Share Buttons
Improve our games with Leaderboard, and Rating Feature



=== Even if we do our best to minimize any inconvenience, we can't ensure the full compatibility of all our games on every device and every operating system update.
Thank you for the understanding. ===
FIX UPDATE
17/12/2015:
- Bug fixed with slot cash calculation
-Event handler for WordPress plugin CTL
18/12/2015
-Small bug fixed in ctl_arcade_wp_plugin/ctl-slot-ramses/uninstall.php 24/08/2016:
- Readme file updated
- Bug fixed with win occurrence
22/11/2016:
- Some symbol renamed in folder /sprites
- Fullscreen button added
- Orientation alert added
08/04/2017:
- Bug fixed with hold feature and bonus panel
- Customizable paytable parameters added
- Credits Panel added with show/hide features
- Orientation alert added
- Button fullscreen added
12/04/2017:
-Bug fixed with Bonus
20/04/2017:
- Bug fixed on betting
- Added other customizable params in index.html